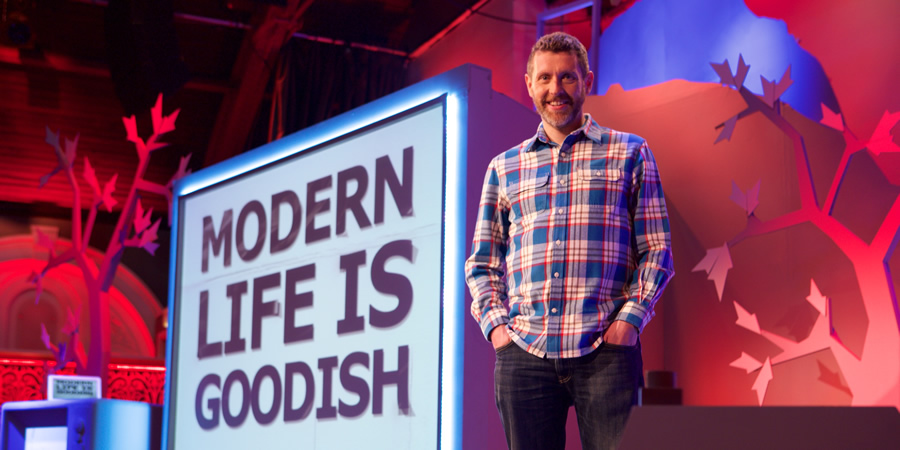 "It's a sort of cutting-edge documentary-slash-stand-up hybrid, with Gorman offering genius gags aplenty"
Rachel Aroesti, The Guardian Guide
In 2013 I made a new six-part series for Dave (That's the channel, Dave, not me-Dave. I don't talk about myself in the third person. Dave Gorman doesn't do that and he never will) called Dave Gorman: Modern Life Is Goodish.
Each episode was an hour-long stand up show presented by me and my laptop. It was informed by my 2011/12 tour, Powerpoint Presentation, and was broadly about the misinformation and nonsense we have to wade through daily in this technologically advanced, wonderful – yet flawed – world of ours.
"in the study of modern miscellany Dave Gorman is the equivalent of a professor emeritus… Not so much a stand-up comedian as the funniest teacher fans never had. Gorman is an alternative comedian in the most literal sense. There's no one else quite like him"
Ian Burrell, The Independent
The shows were filmed at The Tabernacle in Notting Hill rather than in the anodyne surroundings of a TV studio. I think that helped to make them feel and look a little different.
I think it's the first time I've done a series that actually captures the spirit of what I do live – while also, I hope, feeling like it's made for the telly and not just a recording of a gig. The series launched on September 17th 2013 at 10pm.
"Gorman is that rare thing: a comedian who leaves you with a warm glow and tears in your eyes."
Claire Webb, Radio Times
The show was really well received – the quotes sprinkled throughout this page come from reviews of the series – and the viewing figures seemed to back that up. It was the highest rating new commission on the channel that year, with an average audience of 532k (up 40% on the slot average) and peaking at 643k for episode 5 (up 69% on the slot average). UKTV estimated that the show reached 5.2 million individuals. No. I don't understand what these numbers mean, either.
"When TV goodish is perfect."
David Stephenson, Sunday Express
The one thing I do understand about the numbers is that they persuaded the channel that they wanted more of the show. Off the back of series 1, two more series were commissioned. But for series two and three they wanted eight hour-long episodes and not six.
Series 2 started in September 2014 and the feedback was just as good and the numbers even better. UKTV estimated that this series reached 7.8 million individuals and the figures for an individual episode peaked at 651k (up 102% on the slot average).
"Dave Gorman is funny and brilliant in equal measure."
David Chater, The Times
We were part way through making Series 3 when the channel decided they wanted even more and commissioned series 4 and 5.
"Consistently brilliant."
Adam Postans, The People
I guess that put some pressure on Series 3, but I'm delighted to say that there were some great reviews and the numbers went up too.
"The show was a little tour de force, terrific-ish."
Andrew Billen, The Times
So, right now I can tell you that series one, two and three have all been increasingly successful. Series 4 – just six episodes this time, on account of me having taken some time off to have a baby (I know, selfish, selfish me) is on Tuesday nights at 10pm… and we're trying to work out how and when we will be able to deliver eight episodes for series 5.
The series can sometimes be found on demand although I guess that depends on when they last showed it.
"Dave Gorman is a clever and inventive comic… and Modern Life Is Goodish shows why he is so popular."
Simon Horsford, The Daily Telegraph